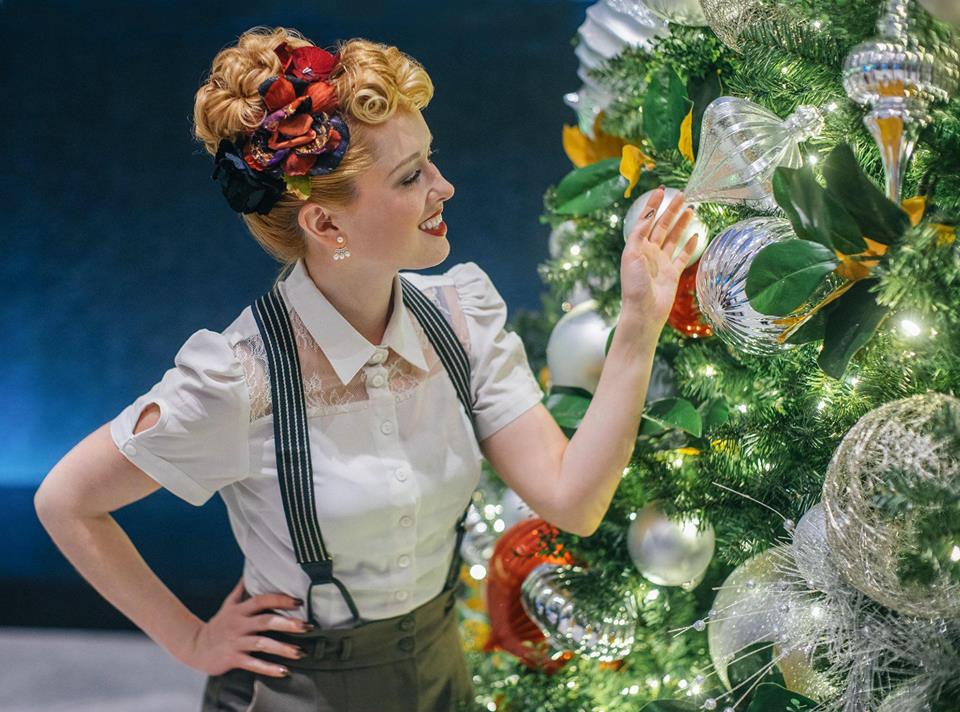 Photo by Steve L. Wong
My name is Destinee Cushing and I will be running the Lindy Focus Salon as Vinspire at Lindy Focus 2018 in Asheville, North Carolina! I am a professional hairstylist with a passion for vintage hair, based out of New York City. I offer dancers sculpted, secure vintage hair styles that usually last days at a time. I provide authentic vintage haircuts to clients, along with modern styles and cuts.
I've brought my Vinspire Salon to The Snowball, Herräng Dance Camp, the International Lindy Hop Championships, All Balboa Weekend, Bal Week NYC, Come Around Montreal, and conferences such as SMX East and Pubcon Vegas. I've also taught vintage hair classes at many of those events around the world.
I'm looking forward to this year's salon especially because I opened my first ever vintage hair salon at Lindy Focus. Lindy Focus was also my first swing dancing event EVER! You can imagine my shock at the sheer number of people in attendance and the information overload that I experienced. But it played an integral part in getting me obsessed with swing dancing and this whole vintage world! It will be wonderful to get back to my roots in the Southeast.
Salon Location
1 Resort Dr, Asheville, NC 28806
Suite 167
The salon is located on the first floor in the suite closest to the Expo Center, facing the parking lot. It's the same location that we've had since 2015!
Opening Hours
There will be some breaks in salon availability due to vintage hair classes, but these will be the general opening hours.
Days: Wednesday 12/26 – Monday 12/31
Hours: 12:00pm – 2:00pm & 3:00pm – 7:00pm
Vintage Hair Classes
12/28 Vintage Hair Basics for Everyone
Time: 4:30pm – 6:00pm
Location: Lindy Focus Salon in suite 167
I will be sharing my tips for how to get started with vintage hair. But I will also be demonstrating the solid foundations that I learned in cosmetology school that are absolutely necessary for any solid vintage hairstyle. This is relevant whether you've been doing vintage hair for years, or you're just now checking it out for the first time!
12/30 It's Knot Over Yet! Bow Ties, Neck Ties, Hair Ribbons & Scarves
Time: 1:00pm – 1:30pm
Location: Lobby by the fireplace
I will be joining Cynthia and Sherwood as a guest for part of their class to share some of my accessorizing and wrapping tips!
12/30 DIY NYE Updos
Time: 4:30pm – 6:00pm
Location: Lindy Focus Salon in suite 167
Were you not able to snag a NYE hair appointment? No worries! I'll teach you how to make beautiful vintage updos that look way more complicated than they actually are. Even if you do have an appointment, these tips will help you look stylish at any swing dancing event in no time at all!
To make an appointment online:
*
Book an appointment on my online scheduling system here: calendly.com/vinspireme.
Pay the non-refundable $10 deposit using PayPal here or with Venmo (@destineecushing).
Your spot is held and I'll see you at the salon!
*NOTE: Online appointment scheduling will only be available through 12/23. After that, you can go to the salon to book an appointment during opening hours (12pm – 2pm & 3pm – 7pm).
To book an appointment at the Lindy Focus Salon in person:
Go to the salon in person on the first floor of the Crowne Plaza Hotel in suite 167 during opening hours (12pm – 2pm & 3pm – 7pm).
Choose a hairstyle or haircut from the styles provided below.
Pay a non-refundable $10 deposit in cash or with PayPal here or with Venmo (@destineecushing) in the salon.
I will schedule your appointment manually for you.
You can check the Lindy Focus schedule to see what time works best for you.
Services Offered:
| | | |
| --- | --- | --- |
| Service | Price | Time |
| Bang Trim, Beard Trim, or Short Hair Heatless Styling | $15 | 15 min |
| Haircut | $50 | 45 min |
| Haircut & Style | $75 | 1 hr 30 min |
| Haircut & Vintage Style | $95 | 2 hrs |
| Down Hairstyle (no pins) | $50 | 45 min |
| Heatless Hairstyle | $50 | 45 min |
| Updo | $65 | 1 hr |
Deposit of $10 is required to make an appointment.
Hairstyles Offered
Vintage Hairstyles:
Braided Hairstyles:
Haircuts: